Yes, it is safe to have chhaas or pasteurised buttermilk during pregnancy. Buttermilk is a source of calcium, proteins as well as healthy microorganisms that give you an immunity boost. Buttermilk is believed to relieve gastric issues that are common during pregnancy.
Originally, buttermilk was referred to the liquid left over from making butter from cultured or fermented cream. This method of preparing buttermilk is now rarely found in Western countries but still prevalent in households within Indian subcontinent.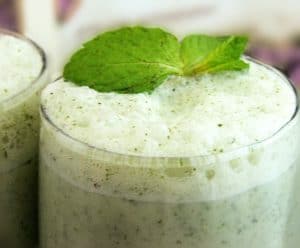 Most commercially available buttermilk is cultured buttermilk. In this type of product, milk is first pasteurised and then a culture of healthy bacteria occurring in buttermilk is introduced. Ideally, this process ensures safety from other bacterial contamination such as E. coli. Hence, it is safe to consume most commercially available buttermilk during pregnancy.
While it is safe, it is important to ensure that the buttermilk you are consuming is made from pasteurised milk. Avoid homemade versions prepared from soured milk as these are more susceptible to contamination and likely lower in nutritional value compared to cultured versions.
Also read about consuming other milk products during pregnancy:
What are the benefits of including greek yogurt in my pregnancy diet?