You have got the crib, the rocking chair, the changing table, the play mat and the baby monitor for the baby's nursery. What else could a baby need? Well turns out a few more items. Here's a list of 10 things that will be super useful for a baby.
Sorbus Dresser with 5 Drawers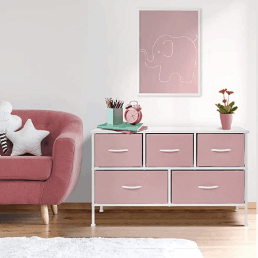 A baby dresser should be cute yet functional, accommodate all babies' supplies yet not be too enormous. Sorbus Dresser with 5 Drawers is the perfect blend of style and function. Made with strong steel frame and durable MDF wood top with smooth finish, it requires minimal assembly.  It is made of soft lightweight fabric that quickly assembles/collapses flat for easy storage and is perfect for a newborn's onesies, blankets, swaddles, hooded towels, beanies and more. And it easily transitions into an older kid's dresser for storing toys, coloring books, Legos, plushies, and dolls!
Parents appreciate the soft fabric drawers with easy pull handles that make for quiet opening and closing so that baby is not startled. They also love the deep storage a Sorbus Dresser provides and how well it enhances a nursery's cuteness quotient without taking up a ton of space. It's easy to assemble, light weight yet sturdy and ideal for small spaces. 
Delta Children Sling Book Rack Bookshelf for Kids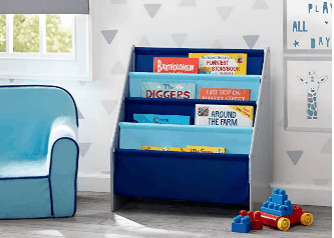 Who doesn't love a good story? Reading to babies as young as four months old fosters their imagination and language skills. And they love listening to your voice. But let's face it; books can make a room very cluttered. Enter Delta Children Sling Book Rack Bookshelf for Kids. A perfect choice for your young scholar, this Sling Book Rack Bookshelf for Kids from Delta Children will help foster your child's love of reading. Featuring four tiers of fabric storage pockets, it offers a stylish storage space for books of all shapes and sizes. A great addition to your baby's nursery, the strong and sturdy wood construction ensures years of lasting use.
Parents love how easy it is to assemble and it fits more books than you'd expect. They love the sturdy design that ensures the book shelf doesn't tip over. The fabric is strong and can withstand a lot of weight. And it comes in a variety of cute colours that make for an adorable nursery!
World Map Pattern Baby Crawling Mats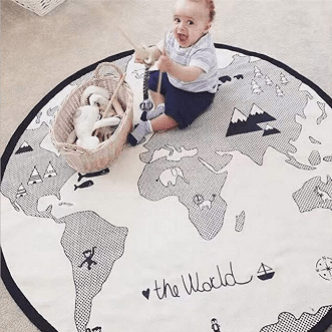 Nothing adds that visual panache to a nursery like the perfect rug! FasterS Adventure World Map Round Rug is made from canvas cotton so that it's comfortable and skin-friendly for your little one. It's big enough for baby to crawl and play games and features cute designs that's sure to melt a mum's heart and spark a child's imagination. FasterS rugs boast fine workmanship and exquisite edge lock that ensure it remains in good shape and does not turn into a bundle of running threads.
Parents love the FasterS Adventure World Map rug. It's great for story time and Lego play and fosters a baby's curiosity while also widening their horizons. It's soft, durable and easy to clean and fun. The perfect companion for baby's play time!
Night Lights for Kids with Stable Charging Pad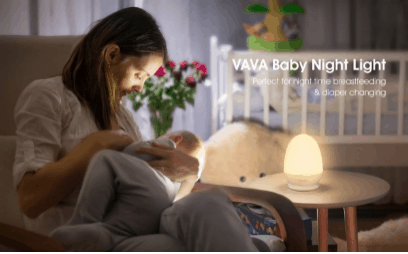 Parenting a new born baby is a 24×7 job. The sun never sets on the changing table. Navigate the nursery even in the middle of the night for nappy change or for nursing baby without tripping over that loud squeaky toy. VAVA Home Night Light is the safest night light made from ABS and PC materials that contain no harmful substances. Emitting a soft, dim glow the built-in night light mode allows you to discreetly check on your baby or breastfeed without waking up your husband. A double tap on the logo sets a 1.5 hour timer that comforts your toddler to sleep and turns the lamp off automatically afterwards. And charging the VAVA Home Night Light is so easy, simply place it on the anti-slid charging base and voila. If you're taking the lamp with you, simply connect the Micro-USB cable directly to charge when out of the house. 
Parents love this little light. The dimmest soft light setting serves perfectly as a night light and the brightest setting is just right for changing and feeding a baby. And they are very impressed by the ease of charging and how long the battery lasts. But the best feature of VAVA Home Night Light is the double tap to set it on or off and simply touch your finger to it for 0.5 seconds to adjust the brightness. A must have for every nursery!
Folding Metal Side Table Removable Tray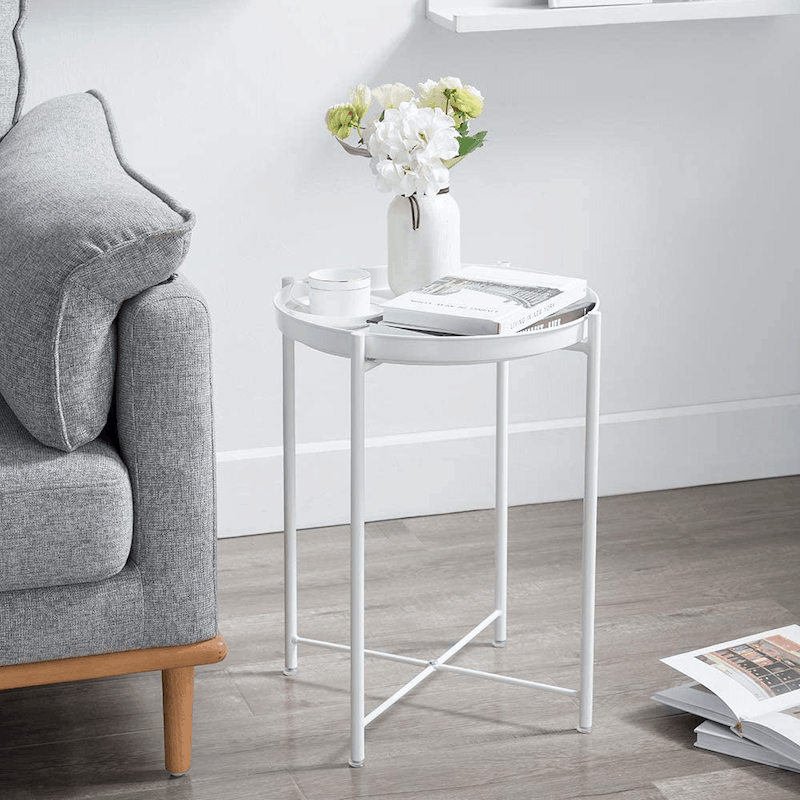 A side table in a nursery not only adds to the elegance and convenience of a nursery, but is great when baby starts trying to stand on her own and walk while holding onto furniture. It's also where her favourite soft toy will hide when they play hide n seek. The Round Tray Top Side Table is constructed from sturdy metal that supports a 88-pound weight capacity, and the raised lip of the tray top helps keep lamps, potted plants, baby's picture book and more safely in place. Each color-block rounded spindle leg features a soft foot pad to protect your floors from damage. The end table assembles in minutes without the need for tools! And it can be taken apart when not in use.
Parents have ordered this for their little one's nursery and been delighted with how well it goes with the decor. They also appreciate the ease of assembly, its sturdiness and quality. And don't even get us started on the cuteness factor! All in all a great addition to your little one's nursery!
Foldable Storage Bin [4-Pack] Fabric Storage Boxes with Lids Large Closet Organizers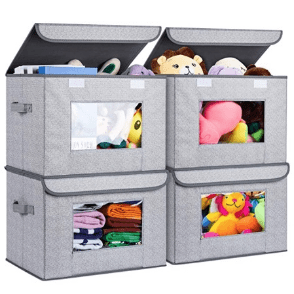 It's amazing how such tiny little beings accumulate such heaps of stuff – from books to toys to clothes to blankets to swaddles to booties, the list is endless. To keep so much stuff organised you either need a genie or a lot of storage boxes. Univivi Foldable [4-Pack] Fabric Storage Boxes with Lids can be the perfect solution. They are a generous 16.92″L x 11.81″W x 11.81″H in size, made from Non-Woven fabric with thick cardboard and have PVC windows that allow you to easily identify what's inside.
Users love the large storage capacity these boxes offer and that each box has a lid, keeping stuff you have stored inside dust free. They also appreciate the PVC windows and the strong side handles that make it convenient to haul the boxes around. And they can be folded and stashed away when not in use. Bring on the toys and books and blankets kiddo, mum and dad are ready to organise!
Baby Crib Mattress and Toddler Bed Dual Sided
With 100% Washable and Breathable and Cooling Gel-Infused Memory Foam Side for Toddlers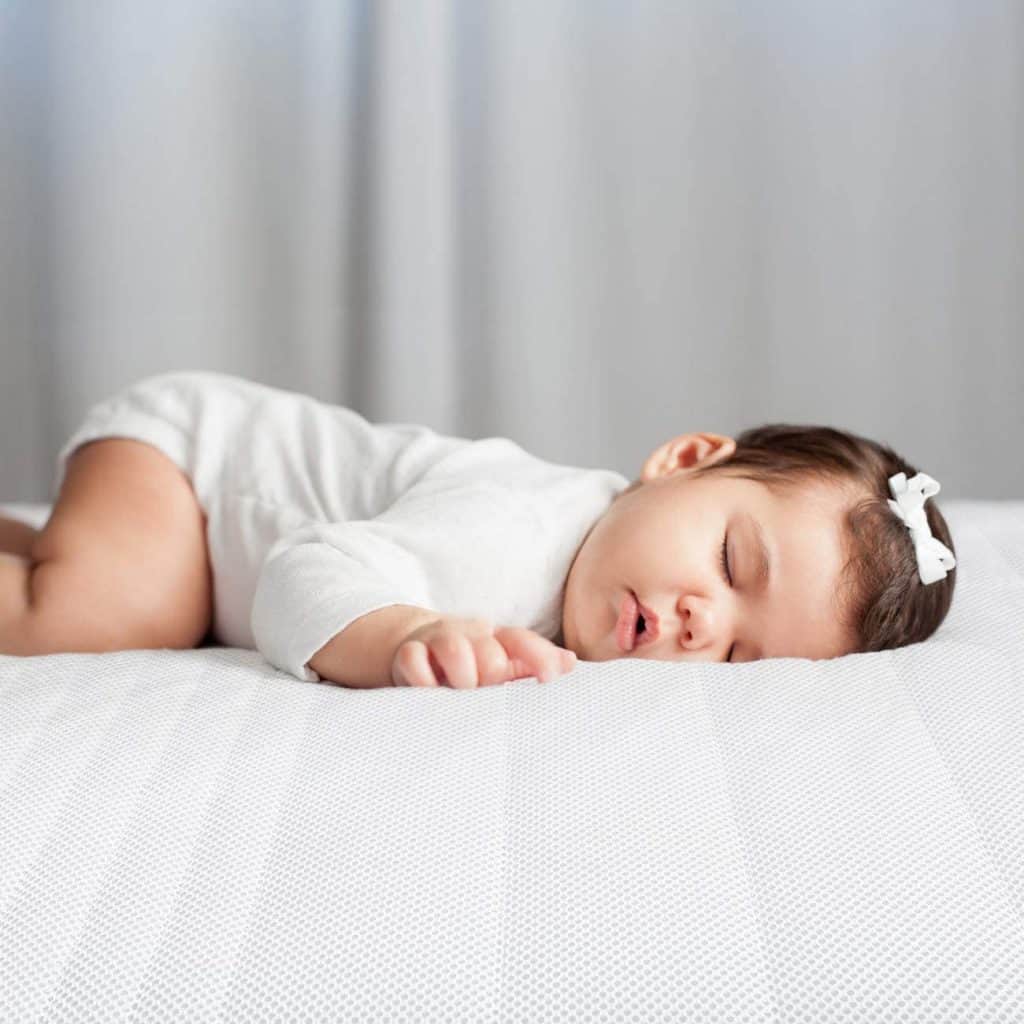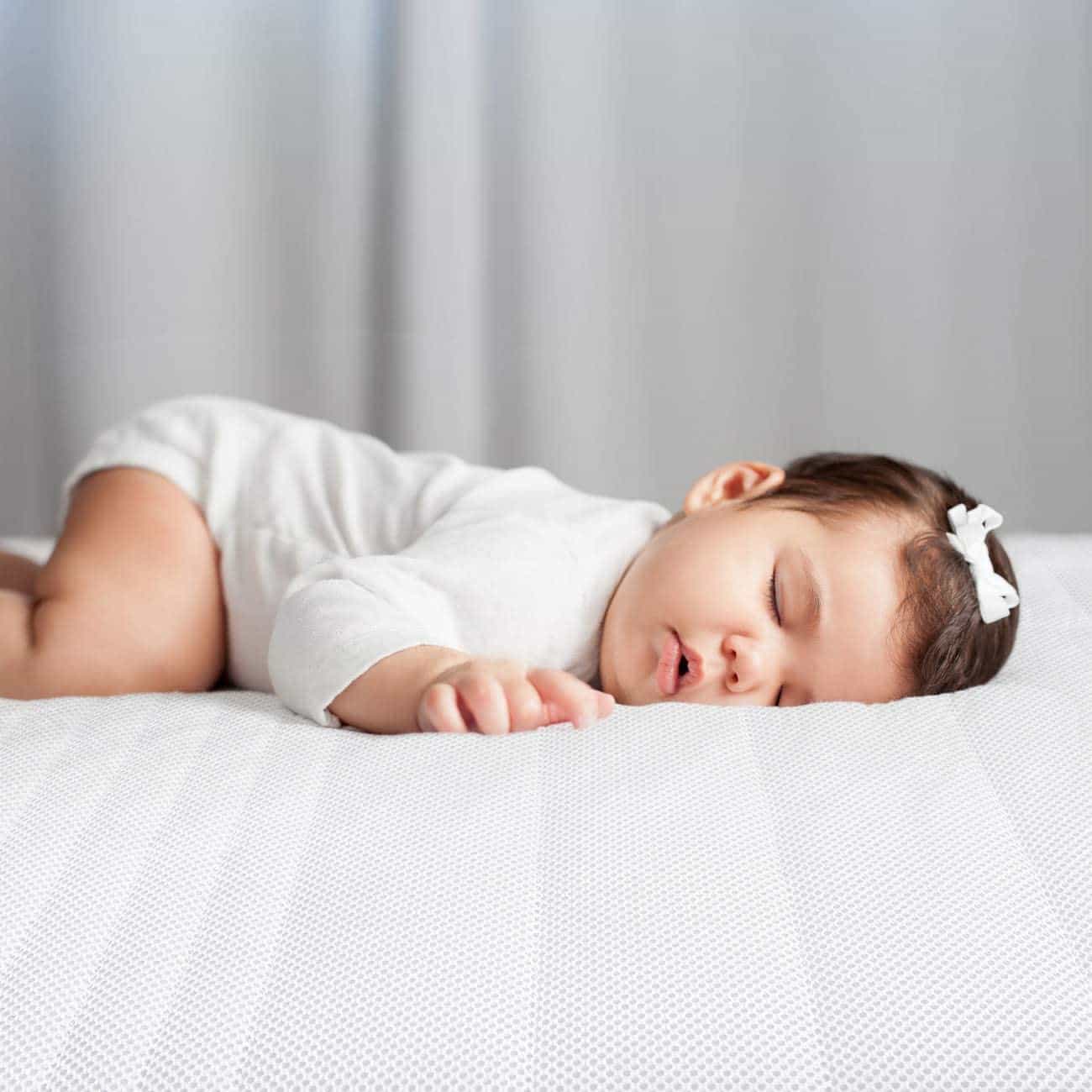 A baby's crib mattress should be firm, made of breathable materials and have a green guard certification. The Dourxi Baby Crib Mattress is the best mattress choice for your newborn, infant, or toddler. The Dourxi Baby Crib Mattress is the ideal recommended firmness for infants, and is designed to fit any standard full-size crib and toddler bed. This mattress features a water-resistant, removable, and washable cover making it easy for parents to keep their baby's sleep environment clean & cozy. The ideal firmness for infant safety and development, this mattress features a core made of high-quality, breathable foam to maximize air flow.
New parents love that Dourxi Baby Crib Mattress comes in a water-resistant, removable and washable outer cover that can be hand washed or machine washed in cold water on delicate cycle. Pro parent tip: for that ideal firmness allow the mattress to expand for 48+ hours on a hard, flat surface, flipping it over after the first 24 hours. If any corner does not raise or seems crunched up, beat on it, fluff it, massage it, or knead it until the corner is expanded and full. Upon full expansion place it back in the mattress cover, put on a fitted sheet and place it in your crib, ensuring that a gap of no more than two fingers remains between the rails and the mattress. Let your baby sleep like a baby!
Crib Mattress Protector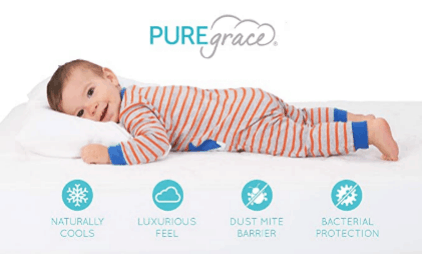 You have spent time and energy researching the perfect mattress for your little one's crib. It's safe to say you want it to last a few years against those inevitable diaper-explosions and in immaculate condition too. Enter Crib Mattress Protector. PUREgrace offers the safest and most luxurious crib mattress protector on the market. It consists of a 100% TENCEL cover which is softer than silk, cooler than linen, and possesses perfect moisture management properties. It absorbs 70% more moisture than cotton and then quickly releases it to provide the perfect dry sleeping environment for baby, ultimately reducing bacteria growth without the addition of chemicals.
Parents appreciate the deep pocketed corners (10″ deep skirting) and added straps of PUREgrace Crib Mattress Protector. Its snug fit, soft feel, ease of washing and durability are all the things they are impressed with. A quality product at a great price!
Hands-Free Diaper Pail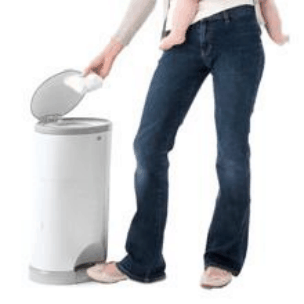 So you have become a pro at changing diaper in under a minute even in the middle of the night. Bravo! But disposing diapers in the normal trashcan can be a smelly business. Dekor Hands-Free Diaper Pails are designed to make diaper disposal as easy as possible. Just STEP on the foot pedal AND DROP the soiled diaper through the trap door. No squishing, twisting or cramming. And it comprises of a childproof lock to keep curious toddlers out. Continuous liners allow you to empty the pail whenever you want, using only as much refill as you need. The effective triple odor control keeps the diaper smells in the pail. The Dekor Classic holds up to 45 newborn diapers.
Parents love the ease that a Dekor Hands-Free Diaper Pail offers. After all who wants to struggle with disposing a diaper in the middle of the night? They also like the childproof lock for when a baby gets curious and wants to explore. And the best part, Dekor Hands-Free Diaper Pail easily transitions into a normal trash can when baby's diaper days are over. It's easy to install, easy to use, easy to clean, and durable. A must for a baby's nursery!
Fitted Crib Sheet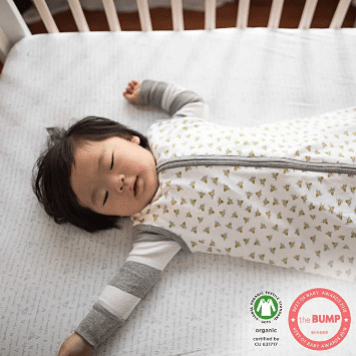 A crib is no place for soft toys or those tiny pillows. That leaves the Crib Sheets, the only element that can be functional and super cute. So mum and dad make sure that baby's crib sheets are soft and no less than works of art. Burt's Bees Baby Fitted Crib Sheets feel like your favorite tee. Made of 100% organic cotton, GOTS certified, & jersey knit baby bedding, baby will have a sound sleep and sweet dreams on Burt's Bees Baby Fitted Crib Sheets.
Parents can't stop gushing about how soft Burt's Bees Baby Fitted Crib Sheets are and how snugly they fit onto the mattress. And they hold up superbly even after several washes. They are soft, they are safe and durable and make any crib look like a work of art!