Babies are curious beings. They are fascinated by and constantly exploring what may seem ordinary objects to us like drawers, door knobs, switch boards etc. There is no limit to their curiosity and discoveries. What we as parents can do is make our homes as safe as possible to enable our little ones to explore without getting hurt. Here's a list of 10 Baby Proofing Essentials every home with a tiny tot must have:
Sense-U Video+Breathing Baby Monitor 2 with 1080P HD Camera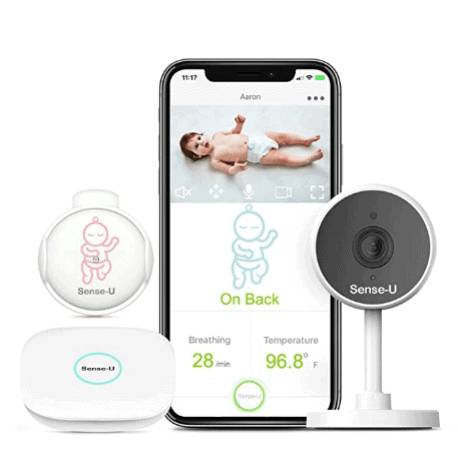 Want to check up on baby without tiptoeing to her room in the middle of the night? The Sense-U Video+Breathing Baby Monitor 2 is the most complete baby monitor that allows you to know your baby's breathing, body temperature and sleep position while streaming HD video, anytime, anywhere. The Sense-U Video camera features 1080p HD Video, Night Vision, 140-degree Wide Angle, 4X Zoom, 2-way Talk, Background Audio, Secure WiFi which allows you to see, hear and talk to your baby securely and clearly in your favorite view, right from your smartphone. You can get audible notifications when baby's motion or sound is detected. The Sense-U Baby device monitors your baby's vitals and the Base Station provides lights and sounds alerts for weak breathing, sleeping on stomach, overheating or getting cold. The Sense-U Baby app supports multiple cameras and baby devices (up to 5) at a time, and the Sense-U baby monitors are FSA/HSA eligible!
Parents have been really impressed with the Sense-U video+breathing monitor! To start with, the app walks you through the entire set up process and does not take more than a few minutes to set up. Once it has been installed, they go ga-ga over the sharp video quality and cannot believe that Sense-U provides HD quality video even in night vision. They absolutely adore the two-way talk feature useful to comfort baby wherever you are. It gives real-time motion alerts and you can even minimise the Sense-U app. Parents also adore the breathing, sleep position and temperature alerts, giving them complete peace of mind and a good night's sleep. A must buy for every new parent!
Toddleroo by North States Wide Easy Swing & Lock Baby Gate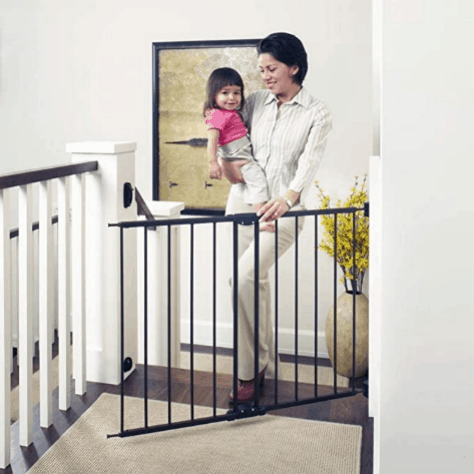 It's a great time when baby starts crawling and getting to know the world. But as a parent you are also worried about the safety of your baby and wish to prevent any accidents from happening. Keep baby safe and secure with the Toddleroo by North States Easy Swing & Lock Gate. It is solidly constructed from the highest-quality materials to withstand rigorous day in, day out use. It provides the ease of one-handed operation and the security of the safety latch design. This gate has no threshold to step over and will not swing out over stairs. Ideal for a variety of room openings or at the top of stairs measuring 28.68 to 47.85 inches wide and is 31 inches high. Every Toddleroo by North States gate is JPMA and ASTM certified. And the sturdy steel metal construction and decorative matte bronze finish complements any home decor.
Diligent parents bought Toddleroo by North States Easy Swing & Lock Gate after a lot of research and couldn't be more impressed! It does not pose the danger of tripping – thanks to the absence of a threshold to step over, and is easy to open with one hand. So whether you are carrying the baby or have laundry in hand, you can easily open the gate and simply glide through. It's strong, sturdy and keeps your baby safe without compromising on the aesthetics of your home.
Cardinal Gates Safe Window Warden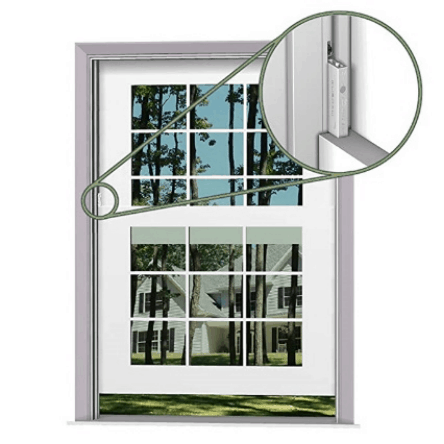 Come morning time and it feels exhilarating to open the windows and let some fresh air and sun shine in to the house. But with a baby explorer at home, you can never be too careful. Enter Cardinal Gates Window Warden. Developed by PCA Design this unique window guard allows windows to open up to a maximum of 4″ but prevents them from opening any further. It works on most double hung windows, sliding windows and sliding doors. Each pack includes 2 Window Warden along with instructions and all the necessary hardware for installation.
Parents couldn't be more satisfied with Cardinal Gates Window Warden. It's easy to install, easy to remove using the release button and meets all the safety standards. Many parents swear by the safety quotient of these window guards. Cardinal Gates Window Warden has prevented many untoward accidents from happening.  Its sturdy, reliable and great value for your money! Now enjoy fresh air safely!
Bebe Earth – Baby Proofing Edge and Corner Guard Protector Set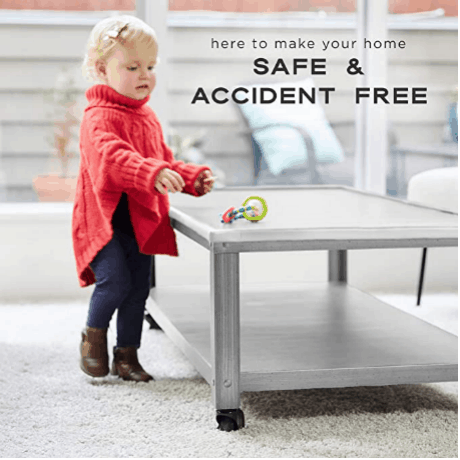 Babies will be babies. Once they learn to stand up and walk there is no stopping them. And we would expect no less!  Bebe Earth helps you feel comfortable giving your child the freedom because you know your space is as safe as possible to prevent accidents. It's 3M Adhesive has a strong hold against little hands and fit all standard tables of various sizes and shapes. It meets all US child safety regulatory standards for your peace of mind. Its high-density foam is the perfect balance of soft impact and thickness and seamlessly blends into your decor. You will need zero tools to install Bebe Earth Baby Proofing Edge and Corner Guard, making it convenient, hassle-free and easy to use.
Delighted parents say Bebe Earth Baby Proofing Edge and Corner Guard allows babies to explore and discover without the threat of injury from sharp edges or corners. And the best part is it blends in seamlessly with the furniture leaving your home looking aesthetically pleasing and safe. The easy-to-peel 3M double-sided white tape adheres securely to surfaces and can be removed easily. It's easy to install, easy to use, provides strong adhesion and durability. Time to turn your home into a play zone for your kid that's safe and promises to be lots of fun.
Munchkin Xtraguard Dual Action Multi Use Latches, 2 Count
Your baby proofing project is incomplete without Munchkin xtraguard dual action multi-use latch. Because all of us know how much babies and toddlers love digging into cabinets, refrigerator and the likes. Secure cabinets, drawers, appliances, toilet seats and more with the Munchkin xtraguard dual action multi-use latch. This handy 2 pack features a dual button operation to release, making it hard for children to open but easy for an adult. Simply release and rotate when not in use and push back to fasten. The flexible strap allows for latching around corners. Installation is quick and simple and the included adhesive removes easily without damaging surfaces.
Users agree it's the sturdiest baby lock out there that's also the most convenient for adults to use. It's super easy to install, can hold its ground against the super hero might of a 2-year old and can be used to secure multiple places in your home. So, what are you waiting for, install these and inform your toddler that the game is on!
Dreambaby Dual Fit Plug and Electrical 2-Piece Outlet Cover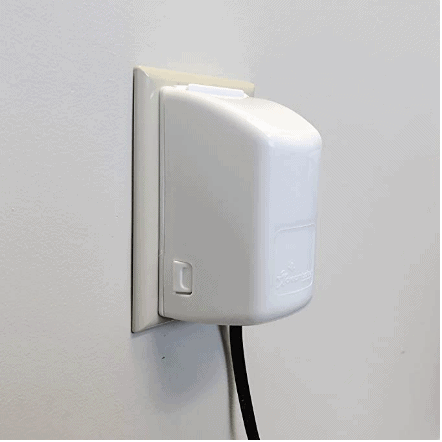 Your baby has started to walk and had their first taste of independence. You want to make sure your space is as safe as possible for them. One of the most important things is to make electrical outlets inaccessible to little fingers or inserted objects. The Dreambaby Dual Fit Plug & Electrical Outlet Covers are perfect for covering up these home dangers. Keep your appliances in use and still maintain a safe home with these Dreambaby Dual Fit Plug & Electrical Outlet Covers. They cover both unused and used outlets so your child can't unplug cords, but you easily can. Each Dreambaby Dual Fit Plug & Electrical Outlet Cover package comes with 2 dual fit plug and electrical outlet covers. They're suitable for all types of outlets, both standard and decora.
Veteran parents say these are some the safest, strongest, and easiest electrical covers to install. The size is just right to fit larger cords and smaller adapters. Some ingenious parents even painted them to match the colour of their walls and fit in perfectly with the decor. Way to baby proof your home!
EUDEMON 4 Pack Baby Safety Door Knob Covers Door Knob Locks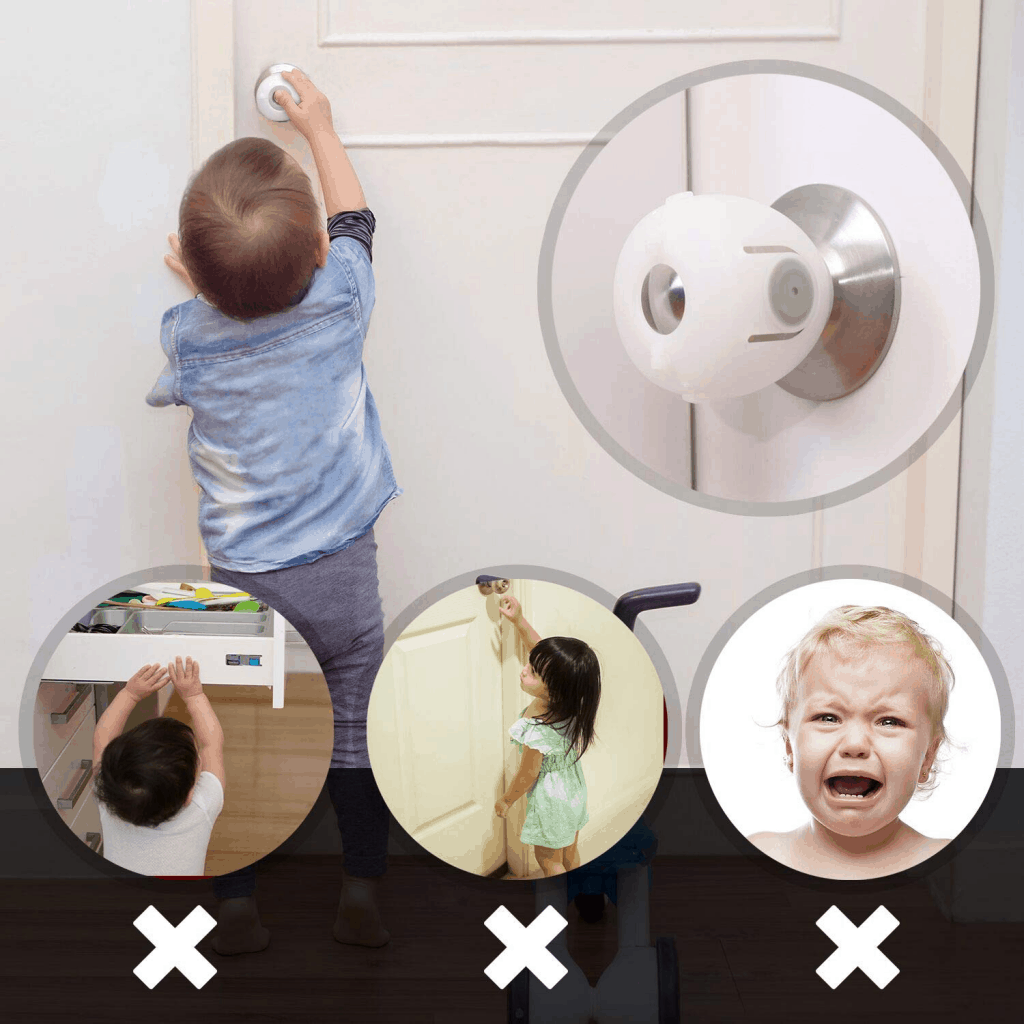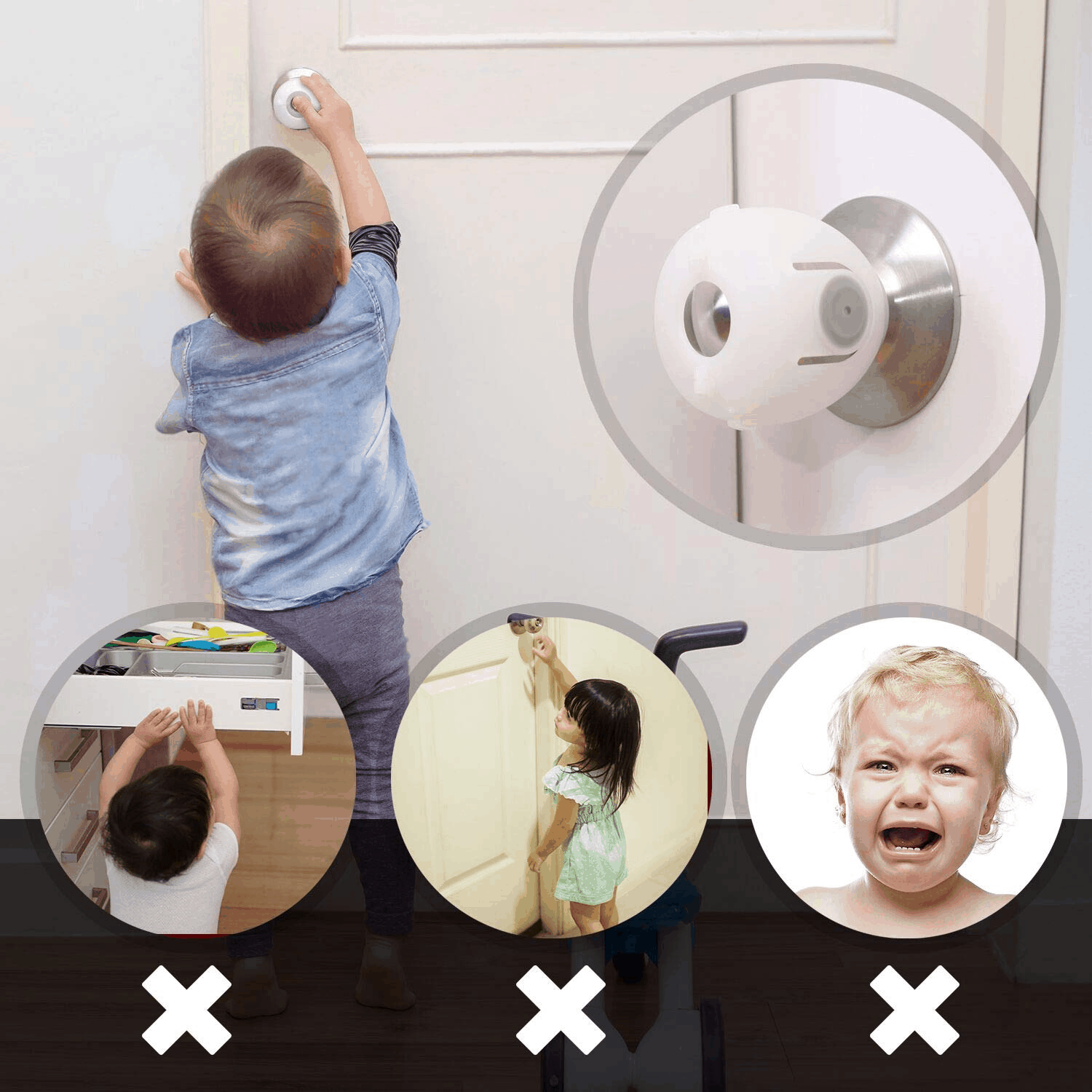 So, you have a toddler who loves opening and closing doors and saying Goodbye, see you later! While it's super cute, it's also super scary. Prevent babies from opening the door and getting into dangers with EUDEMON 4 Pack Baby Safety Door Knob Covers. Made of Eco-Friendly PP and TPR material, EUDEMON baby safety door knob cover has passed Mechanical and Physical Properties test (EN71).
Parents who have used EUDEMON baby safety door knob cover find it a great door knob cover. It's super easy to install – no drill and tools required and causes no harm to the door. And it's easy to remove- simply use a screwdriver to release the lock. It's easy to use for an adult but super difficult for a child to open the door with these on. Made from eco-friendly material, these door knob covers are the most preferred choice amongst environment conscious parents. A must have for every home with a toddler!
Hangman Anti-Tip Kit – 400 Pound Falling Furniture Prevention Device (TK-400), 1 Pack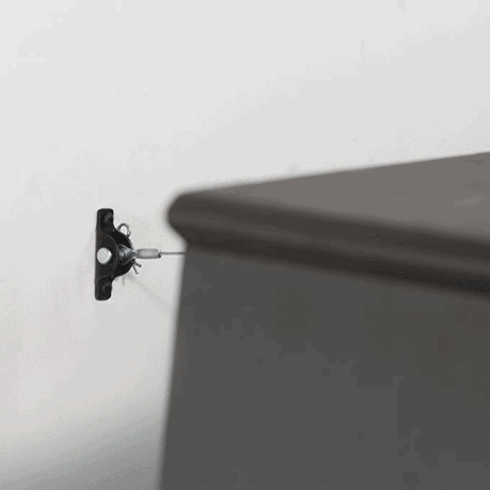 If you have a little superhero who wants to test his strength by pulling on furniture, you need anti-tip brackets that you can truly depend on. The Hangman Anti-Tip Kit can hold up to 400lbs and helps prevent furniture from falling over. It is excellent for safely securing file cabinets and full-length mirrors to walls. It is made of steel and galvanized steel aircraft cable. It is easy to install, tamper resistant and comes with the hardware required for installation.
Users give rave reviews for this one. They claim Hangman Anti-Tip Kit may even hold a car in place if installed with these. That's the kind of sturdiness and peace of mind Hangman Anti-Tip Kit provides. Pro tip: Make sure you find the stud in the wall. It's easy to install, extremely sturdy, the hardware quality is very good, and you can undo the clips in case you want to move the furniture. Only con is you have to screw a hole in the back of your furniture to install it correctly. A must have for every home with a super-hero toddler.
Wittle Finger Pinch Guard – Durable Foam Door Stopper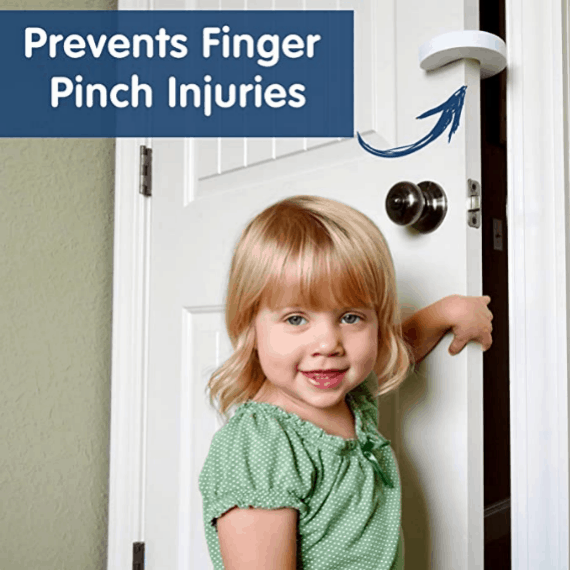 If you have a tiny tot exploring every nook and corner of the home, you want to prevent the ouches happening from slammed doors. Wittle Finger Pinch Guard is the simple and easy solution for avoiding painful finger pinch and jamming injuries, stopping the door from slamming shut and preventing children from accidentally getting locked in a room. Made from durable and safe EVA foam, it's EASY to attach and remove, creates about a 1.5-inch gap between the door and door frame and its white color and simple design blends in to match any décor style.
Delighted parents say Wittle Finger Pinch Guard is a game changer! Now curious little ones can go exploring the house without mum and dad getting anxious about little fingers getting injured. They are easy to place, remove, and reposition, and they do NOT leave any sort of mark or residue on your door. They are perfect to keep little fingers safe and are unbelievably  durable! And the best part Wittle Finger Pinch Guard is a favourite not just with parents of toddlers but also teachers! Have you baby proofed your doors with Wittle Finger Pinch Guard yet?
Regalo My Portable Play Yard Indoor and Outdoor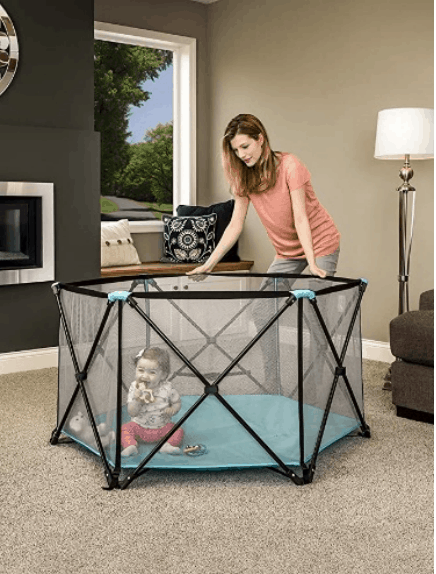 Play yards are great for babies to play in a safe and supervised environment. And their portability allows you to carry it over to the park or grandma's house. The Regale Six Panel My Play Portable Play Yard creates a safe play area for your child in seconds. The lightweight, foldable, play yard is ideal for at home, when traveling, at the park or a day at the beach. Boasting an all-steel construction, this attractive play yard measures 48″ wide and 26″ high and was built with durability and strength in mind. Equipped with soft, ventilating mesh sides and an easy cleaning nylon bottom, the yard easily accommodates children between 6-24 months. Taking only a minute to set up, the portable play yard is ideal for indoor and outdoor use for the on-the-go family. 
Mums are over the moon with the purchase of Regale Six Panel My Play Portable Play Yard. Whether you want to start on dinner or need a quick bathroom break or your little one has a play date – this play yard is the perfect play time partner. You can open or close it using just one hand while you hold baby in another. It takes 10 seconds to set up and provides plenty of room for your tot to move around, roll and play. And the fact that it's lightweight and so easy to clean just makes it all the more amazing! A must have for new parents!