The birth of a baby is a joy not just for the parents alone, but grandparents, uncles, aunts, friends and loved ones alike. Baby shower is an ideal time to shower the expecting parents with love, affection and gifts. Here are 10 Baby Shower gift ideas that the expecting parents will need during pregnancy and in the months to come. After all it takes a village to raise a baby! 
RONBEI Baby Bassinet
RONBEI Bedside Sleeper, Baby Bed to Bed, Babies Crib Bed, Adjustable Portable Bed for Infant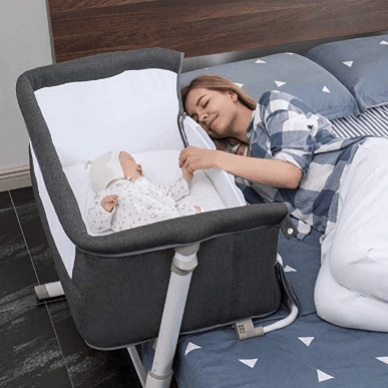 Buying a baby crib is no child's play. It can mean the difference between a good night's sleep and an anxious night. We recommend Ronbei Baby Bassinet Bedside Sleeper. It can be used as a standalone bassinet as well as a side sleeper bassinet attached to the parent's bed. It meets stringent US safety regulations for bedside sleeper, as well as, conforms to ASTM F2906 safety standards. It boasts 9 height adjustable settings ideal for all kinds of beds and sofas. The adjustable feet make it easier to be close to parent's bed. The open mesh sides allow more breathable comfort and visibility and its lightweight design makes it convenient to move from room to room for convenience.
Moms especially love the convenience Ronbei Baby Bassinet Bedside Sleeper provides to nurse baby in the middle of the night. They also appreciate the simplicity of taking the side down -simply unzip, fold and snap, it's done. It's a safe way to co-sleep with the baby and does not take up a ton of space. It's easy to assemble, absolutely loved and highly recommended!
Delta Children Eclipse Changing Table with Changing Pad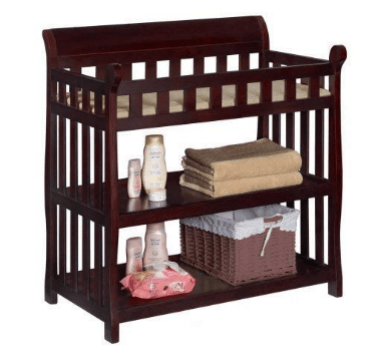 Being a new parent means being on diaper duty day and night. Who knew the perils of parenthood! But turn change-time into fun-time with Delta Children Eclipse Changing Table. It's the perfect addition to your baby's nursery. This beautiful and functional changing table offers generous open storage to keep all necessities – from diapers, diaper cream to baby wipes at your fingertips. Its four high sides add elegance and security to functionality. Tested for lead and other toxic materials, Delta Children Eclipse Changing Table consistently meets or exceeds government and ASTM safety standards. It comes with a water-resistant changing pad and safety strap to ensure that the baby is safe at all times. And the best part, it goes perfectly with a range of Delta Baby Cribs.
Countless new parents have found Delta Children Eclipse Changing Table to be life saving! Bending over every time a baby needs to be changed can be painful for an already overworked parent's back. But with Delta, you change the baby at chest height, so no bending over and no backache, phew! They appreciate the quality of the material, its durability, sturdiness and storage capacity and it's so easy to install. Definitely a great baby shower gift at a great price!
Graco Rocking Nursery Chair with Ottoman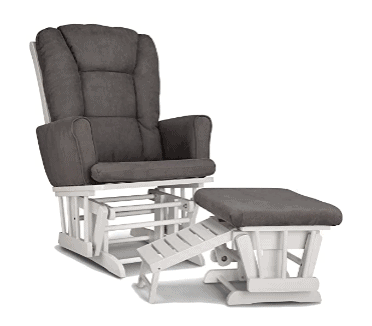 It is every parent's mission to get their little bundle of joy to sleep. Countless parents have spent countless nights in the nursery in pursuit of this mission. We recommend Graco Sterling Glider and Ottoman. It makes for that perfect cozy corner of the nursery where you and baby can relax, rest your feet while feeding and rock the baby to sleep. The glider and ottoman both have a smooth gliding motion to work in tandem for a synchronized glide. The ottoman also features a pull-out/fold-under nursing stool that allows you to comfortably rest your feet during late night feedings.
Moms have spent hours in these chairs nursing and rocking and they appreciate the ottoman to prop their feet up and relax. Its gliding motion is very smooth and soundless. And it's comfortable even for petite mums whose feet still touch the ground. Only downside is it comes without pockets to store nursing essentials or late night snacks. All in all, it's easy to assemble, luxuriously comfortable, great value for money and makes for a great baby shower gift!
The Expectant Father (The Ultimate Guide to Dads-to-Be)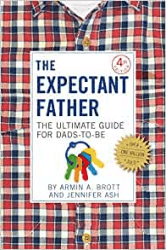 Pregnancy shifts the focus from a couple to the expecting mother and the child. How about a baby shower gift for an expecting Dad that will useful and appreciated for its insights. We recommend The Expectant Father (The Ultimate Guide to Dads-to-Be). Armin Brott―best-selling author, broadcaster, nationally syndicated columnist, and dad of three―is America's foremost expert on fatherhood. His wisdom―along with the advice of leading obstetricians and researchers, and the experience of hundreds of real-life dads―is collected here in The Expectant Father, the essential guide for dads-to-be.
This book has garnered the attention and accolades of hundreds of new parents for its month-by-month overview of a partner's pregnancy, giving an expecting dad the tools he needs to support his partner, prepare for the baby's arrival, and take care of himself during this exciting time. It stands out for its honesty, perceptive insights and a wry sense of humour. Definitely a must for every expecting dad!
Signature by Levi Strauss & Co. Gold Label Women's Maternity Skinny Jeans

A woman's body changes a lot over the course of a pregnancy. But every woman wants to look good and feel good every day of her life and especially when she is pregnant. So investing in a pair or four of good maternity jeans makes sense. Signature by Levi Strauss & Co. Maternity Skinny jeans are jeans that love your shape! Crafted with super stretchy Simply Stretch denim, it offers superior quality and stretch ability for maximum comfort. Signature by Levi Strauss & Co. maternity skinny jeans feature a smooth tummy knit panel with a feminine cross back detail that provides enhanced lower-back support that can fold up or down to adapt to your changing figure. The Maternity Skinny is cut slim through the hip and thigh with a skinny leg opening.
Mums around the globe found nirvana with Signature by Levi Strauss & Co. Maternity Skinny Jeans. They had been struggling to fit into normal skinny jeans and hated the baggy variety maternity jeans. But Signature by Levi Strauss & Co. Maternity Skinny Jeans look and feel so good, they fit perfectly and grow with your growing belly and are an epitome of comfort.
BABYBJÖRN Baby Carrier Mini, Cotton, Vintage Indigo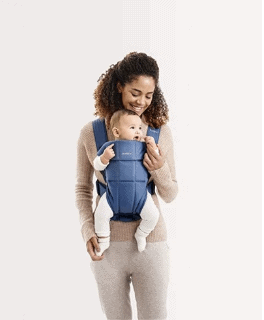 A mom's heartbeat is music to a baby's ear. What better way to soothe a baby especially during those first few months when baby's need for being close to mom is perennial than a Baby Carrier. We recommend BABYBJÖRN Baby Carrier Mini. It's small, easy to use and you can quickly put it on for short baby wearing sessions. Its soft fabric gently hugs your baby's back, legs and hips and provides good support, which is perfect for those early months.
Mums round the world have fallen in love with BABYBJÖRN Baby Carrier Mini. They adore the ease of getting baby in and out of the carrier, even when baby is sleeping. It's also very easy to adjust the size of the carrier if mom and dad decide to take turns wearing baby. And it's so easy to clean. Only drawback is there not much in terms of back support, so baby wearing sessions have to be short. Otherwise it's so cozy that parents wish they could continue wearing baby even after she turns a year old.
Leachco Snoogle Original Maternity/Pregnancy Total Body Pillow, Ivory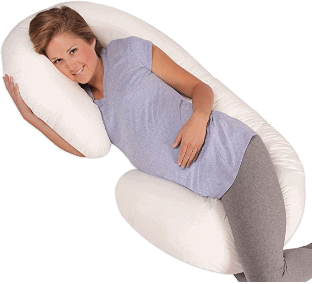 Knowing that you are going to be a parent of a wonderful little bundle of joy is enough to make any mom feel over the moon. But along with the highs, also come the aches and pains and sleepless nights trying to find that comfortable position to sleep in. Start sleeping like a baby with Leachco Snoogle Original Maternity/Pregnancy Total Body Pillow. The Snoogle is uniquely designed to follow the natural contour and shape of your body from head to toe, making it perfect for sleeping and relaxing. It comes with a removable/washable cover. The horseshoe shaped head pillow allows you to attain the position and height that is just right for you. And the extra long midsection is the perfect width for total back or tummy; depending on the direction you choose to snuggle up in your Snoogle. The slightly curved end tucks snugly between the knees as it conforms to your shape keeping you cool and comfortable all night long!
Expecting mums have purchased the Snoogle in the middle of the night and found it to be a godsend. Husbands have gifted this to their pregnant wives desperate for some sleep and found that wives now can't sleep without the Snoogle – long after they have delivered their baby. It's a well-made pillow that supports the needs of an expecting mom and vastly improves her quality of sleep. A happy mama sure makes for a happy baby. It's durable, it's versatile and it's THE most perfect baby shower gift you can shower on a mom-to-be.
The First Years 4 in 1 Warming Comfort Tub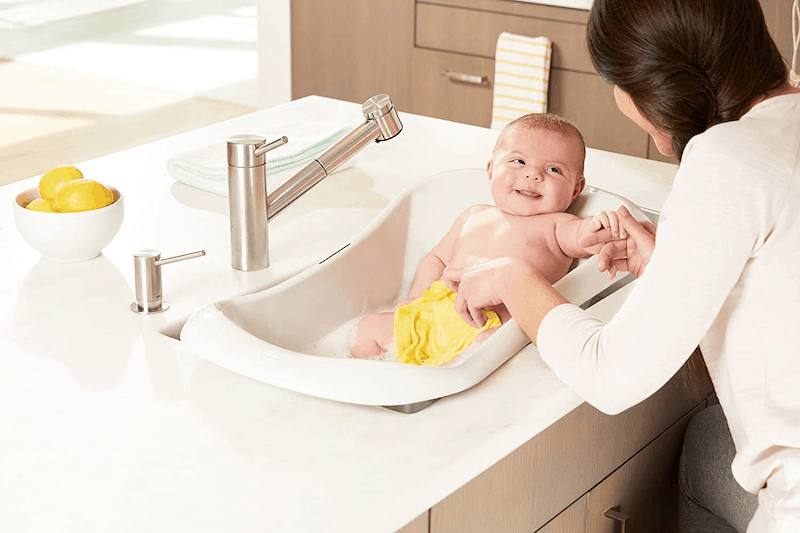 Giving baby a bath can be one of the most challenging tasks for a new a parent. And the presence of soapy water is not helpful at all. We recommend The First Years 4 in 1 Warming Comfort Tub. It comes with a Newborn sling, baby-stopper insert and Sit-Me-Up Support that lend a 'helping hand' at every stage of the baby's development to keep baby from slipping and sliding in the tub.
Many happy parents have been using The First Years 4 in 1 Warming Comfort Tub since day one of giving baby a bath and are impressed with the smooth transition the bath tub made from catering to the needs of a newborn to a toddler. It fits over any sink and has a smart hook at the top to hang it up after use, making it ideal for homes with economy of space. The soft mesh sling gently cradles newborns in just the right amount of water, giving little ones a sense of security. Highly recommended as a baby shower gift!
Mambino Organics Oh Baby. Belly Butter – All Natural Anti Stretch Mark Cream
Pregnancy causes a lot of changes in your body. Some are beautiful like the cute baby bump, but others like stretch marks are unwelcome. We recommend Mambino Organics Oh Baby. Belly Butter – All Natural Anti Stretch Mark Cream. A richly blended belly butter to gently and safely moisturize and nourish mama's stretching skin Mambino Organics Oh Baby. Belly Butter – All Natural Anti Stretch Mark Cream with Shea Butter and Vitamin E conditions your growing belly with cocoa, shea and jojoba butters. This 99% natural, fragrance free formula can keep your skin smooth and supple as your belly stretches throughout pregnancy and even after the baby arrives. Mambino Organics Oh Baby. Belly Butter – All Natural Anti Stretch Mark Cream contains no phthalates, parabens, petrolatum, or SLS, and it won't irritate your skin so you can use this balm with peace of mind. 
Veteran mums have used this with amazing results. They fall head over heels with the luxurious richness of Mambino Organics Oh Baby. Belly Butter – All Natural Anti Stretch Mark Cream and apply it liberally all over tummy, sides and chest area. Even once skeptic moms have become fans of Mambino Organics Oh Baby. Belly Butter – All Natural Anti Stretch Mark Cream and have ordered it multiple times to use it every single day over the course of their pregnancy and after delivery. It nourishes the skin and keeps it soft and supple and eases itching. It's a great gift to show love and care for an expecting mom.
RUVALINO Multifunction Travel Back Pack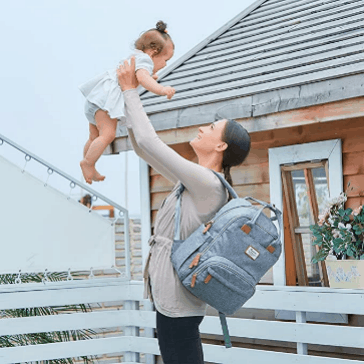 Babies are royalty. Taking them from point A to point B requires planning and supplies, lots of supplies. Therefore a good Diaper bag is a must. We love RUVALINO modern diaper bag backpack. It's an artful balance of fashion and function and can hold your entire baby's gear. It is perfect for both mom and dad as it has all the must-have features of a classic diaper bag including 2 big compartments and 16 pockets for the ultimate organization, easy-grab handles, mommy pocket for your belongings, custom hardware D-rings for stroller (Pram hooks excluded) and comes with a waterproof changing pad!
New parents swear by the amount of storage space this bag provides. And it does not skimp on style either. And the biggest plus of a Ruvalino, you can zip and unzip the different compartments of the bag with one hand. Because let's be honest which mom has two hands free to close a diaper bag? It has open top water bottle holders on the side which makes it easy to pull out baby's bottle quickly and can hold up to 4 bottles with insulated holders. It's even perfect for parents with twins. Made from lightweight, waterproof fabric that is tear proof, Ruvalino is durable and great for both parents to use. A must have diaper bag for parents at a great price!